On tuesday I went shopping. On wednesday I got my credit card bill. So I am looking at what I bought and trying to convince myself to return things. First is a grey marl dress, that is actually meant to be nightwear. It's basically a very long t'shirt, nothing special but might be a useful basic. There is also a grey vest underneath that again is an unexciting basic:




Item number 2 is this pink/nude skirt. I have this in black as well that I'm saving for A/W and I was thinking of this version for summer. I do love it, but I wasn't sure how I would wear it, especially given that I do not do bare legs above the knee (not a pretty sight!). So I tried to think of summery ways of wearing it, kind of hoping that I wouldn't come up with any and so be able to return it without regret. This is what I came up with, they do all involve tights and so would have to be for chillier summer days, which there are a lot of here in the north east UK: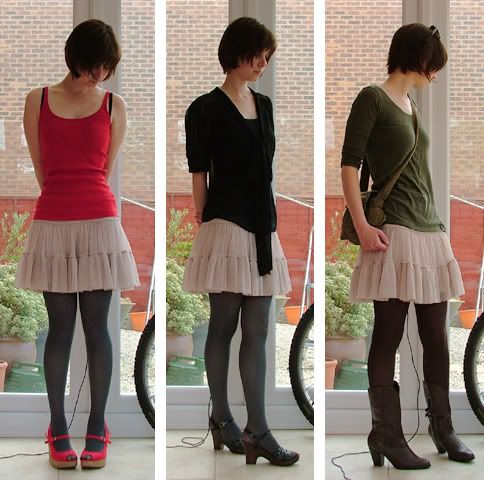 This has backfired as I now like it even more! It has a knackered ballerina air and makes me think of Degas' Little dancer.




Maybe I should return the black version instead? What d'you think?