Today I gave up battling the wind and went back to the conservatory: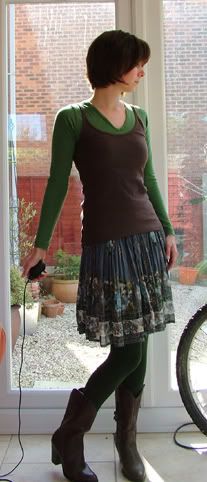 Top H&M, vest Topshop, skirt some market stall in Harlow about 10 years ago, boots New Look.

If you look really closely, you can see the 'real leather' tag on one of the boots! I mention this only because it links to a post on Painfully Hip where Amber expressed her dislike of Wardrobe Remix pictures where the remixer is not wearing shoes. I suggested that if your outfit is only intended to be worn around your house, you might not include shoes in the ensemble and that doesn't mean it's not a valid, fully thought-out outfit. So the question is, should you add shoes, bags, jackets etc. to an outfit that you're not going out in, just for the pictures?

I add shoes if I'm taking the photos outside, for obvious reasons, but I also do it for indoor pictures if I think the outfit is improved by them. I don't add a bag if I'm not actually going to carry one, or a jacket/coat, unless I'm taking outdoor pictures and it's cold. Conversely, if I've put on extra, less than stunning, clothes for warmth, I take them off for the photo. So my outfits are the actual ones I wear, but the best possible version, rather than the absolute truth. And one day I might actually make my mind up about those boots and take the tags off!