This is the jacket I got in the Topshop.com sale. You can't really see from the pictures but it's blue, white, and thin red striped. What I like about it is how you can button the lapels in different ways and so get several different looks: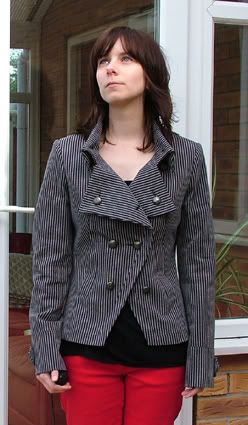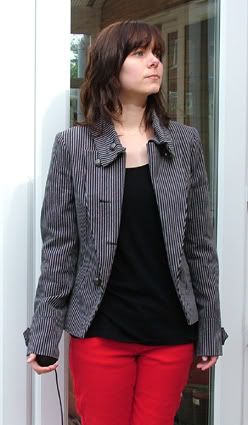 Top H&M, jeans ASOS narrowed by me

I fell in love with THE Topshop blue and red striped blazer when it appeared (you know, the one that was in all the magazines). I even bought it. But although I loved it and it fitted really well, I just couldn't wear it. I have quite a long torso so cropped jackets and long jackets look ok, but ones that hit right on the hip make me look out of proportion, particularly if I wear them with trousers. I tried the jacket with everything in my wardrobe but nothing looked right and I eventually, sadly, returned it. This one seems better, I think because I can wear it open (the original one didn't hang right open) and so not have the line across the hips which causes the proportion problem.

ION, I really need a haircut!